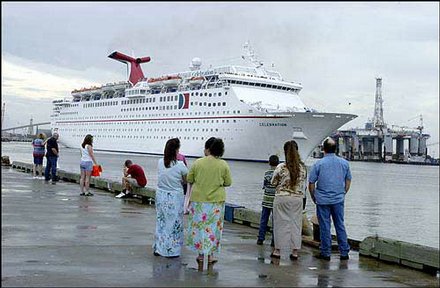 The Carnival Celebration, the first large cruise ship to call Galveston home, pulling away from the port during its inaugural run in 2000.
As cruise traffic is increasing throughout the United States, people have been turning to the more local, smaller scale ports located closer to their homes. While some have had slow growth, like Norfolk, Charleston, and Jacksonville, others, like New Orleans, Baltimore, Tampa, and Houston are growing rapidly. But nothing compares to the wildly popular port of Galveston. Galveston began competing in the cruise industry in 2000 when the
Carnival Celebration
began operating cruises out of the then small port. This was followed by the
Rhapsody of the Seas
and the
Carnival Elation
in 2002. As business in Galveston increased, so did the home porting cruise lines, as the port attracted Princess's
Grand Princess
, Celebrity's
Celebrity Galaxy
, and Norwegian's
Norwegian Dream
. As Galveston began experiencing rapid growth in the mid 2000's, already reaching its one millionth passenger in just 4 years, things seemed to be revolutionizing for this Gulf Coast port. Unfortunately, that all changed when Hurricane Ike, a large and powerful hurricane, left Galveston in tatters in September 2008. What was once one of the fastest growing ports in the nation had been reduced to nothing merely overnight. Very similar to what happened to the port of New Orleans in the aftermath of Hurricane Katrina, the cruise industry left Galveston in favor of the less-damaged Port of Houston in the immediate aftermath of the storm. Although Galveston is still recovering from Ike, only time will tell if it will be able to match its rapid growth that peaked at the turn of the century. Carnival has based the
Carnival Magic
and the
Carnival Triumph
in Galveston and Royal Caribbean has the
Navigator of the Seas
returned. Disney Cruise Line also makes some seasonal calls as well with the
Disney Wonder
. There's one thing for sure: the future is bright for the charm of the Texas coast, with a new cruise terminal under constriction, which is already attracting bigger and better ships from Carnival, Royal Caribbean, and Disney. So will this robust and rustic town full of culture attract both the former companies that moved, as well new companies? With the current state of redevelopment coming from the port, I think they will definitely climb back up as one of the top ports in the nation.